Leasing Center
Brochure
Download a Gramercy Brochure!
We hope that this online brochure helps you make the best possible decision in considering where you would like to call home. Click the below links, and a high-quality PDF will open that you can download at your convenience. The first link is a Gramercy brochure, and the second link is an overview of everything you get as a DownTowne resident. We look forward to having you as our newest neighbor!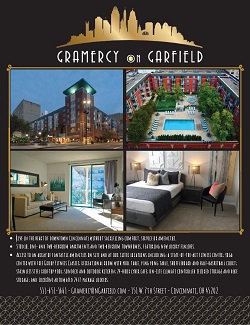 Application
Ready to apply for your new place? You can apply right from our website. We look forward to welcoming you as our newest resident at The Lofts at Shillito!
Testimonials
I've lived in their communities for going on 3 years and have nothing but compliments. Danne recently assisted me with an inter-community move and she could not have been more helpful. Great customer service and a very fun community to be a part of.

- Jeff V.
The Gramercy is a superb place to live. It's got it all--beautiful apartments with lots of amenities including dishwasher and in-unit combination washer/dryer; a pool and weight room/gym; access to adjoining garage; terrific, convenient downtown neighborhood with several restaurants, small grocery store, barber, couple of coffee shops, and Main Public Library all within 2 blocks; Piatt Park with its arched promenade, fountains, and oasis of green just outside the building...

- Pablo D.
I have lived downtown for sixteen years, the last six at Gramercy on Garfield. I had heard good things about it and was not disappointed. Initially I was drawn to it for the location and view. Stellar amenities, a friendly and professional staff as well as an overall sense of community have kept me here. I have made many friends at their resident events. Even their newsletter is entertaining.

- Bill C.
Unfortunately today was my official move out day at the Gramercy on Garfield. This was such a great place to live for my time in Cincinnati...The Gramercy was a great place to meet friends and even better place location wise to meet people in the area...If you are looking for a new place to call home in the downtown area of Cincinnati - look no more because this is the best option!

- Brad P.
The Gramercy is a great place to live! I moved to the complex from the east coast without seeing the property (except online)...The building is very clean and quiet and is in a great location...Overall, this is a fantastic place to live, and I would recommend it to anyone!

- Sara T.